Golf Pro Homa Pitches CX Firm Five9 In New Campaign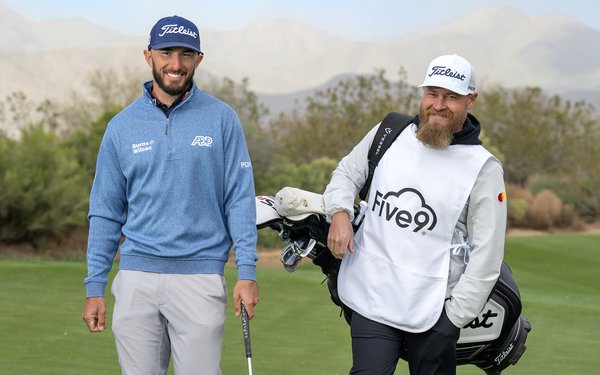 Just in time for the Masters golf tournament PGA Golf pro Max Homa and his caddie Joe Greiner are taking to the links in a new campaign for consumer experience software company Five9.
"The campaign is designed to show how artificial intelligence and human intelligence are a "dream team," just like Max and Joe, as the caddie anticipates the golfer's every need on the course.
The work is from agency Method1, and is the first effort to follow the agency's being appointed as Five9's ad agency. It's also Homa's first engagement with the brand after signing a multi-year sponsorship agreement with Five9.
The ads show the golfer and his caddie playfully showing how their on-the-course partnership is a metaphor for the way in which Five9 brings together both human and artificial intelligence to elevate the customer call center experience.
Homa and Greiner were miked for part of the first round at the Masters on Thursday so viewers could hear them strategize and hear Homa talk to ESPN commentators about his game. Their ads will be seen elsewhere.
"The technology powering Five9's customer service software solutions is complex, but we were able to simplify their story and make it understandable and engaging by playing up the partnership with Max Homa and his caddie Joe," explained Paul Nelson, Managing Director of Method1. "Our goal with this work is to create a marketing ecosystem with relevant content that not only generates awareness but also engages customers and drive sales."
In addition to the video content, Method1 also created a web-based, gamified lead-generation tool tied to the NCAA basketball tournament. The tool creates "brackets" of customer experience challenges to show how Five9 improves agent service and the customer experience through the "Five9 CX Bracket Challenge."
Read from MediaPost